Bed & Breakfast in Rimini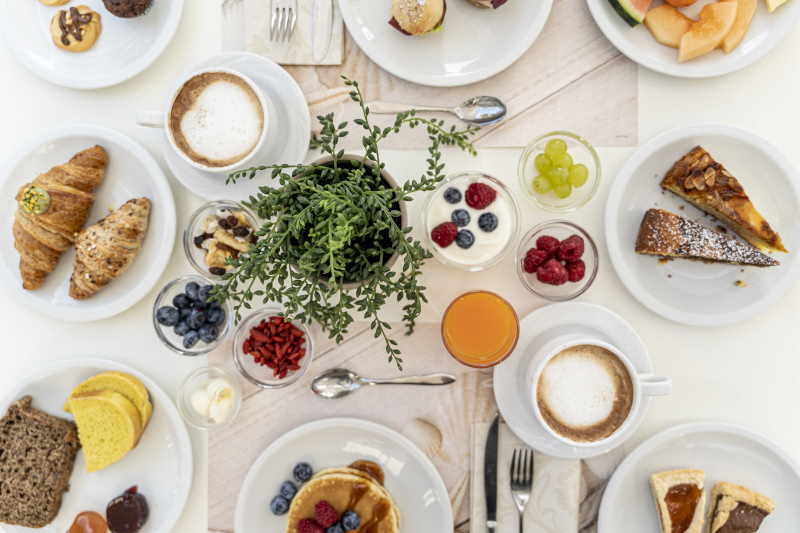 ​
​
Here at Hotel Constellation, every morning is a surprise; a really good, varied and tasty morning to start the day with a smile, with lots of sweet delights and delicious temptations!

Our sweet and savoury breakfast can be enjoyed every morning, from 7.30 am to 11.00 am, either at the hotel, in a bright and welcoming setting, or outdoors on our seaward-facing terrace, for those who want to be caressed by the first rays of the morning sun and a light sea breeze, whilst admiring the bustling promenade of Rimini.
A different kind of awakening, for a good morning that comes directly from the SEA!
Hot drinks at breakfast are all prepared using freshly-ground Lavazza coffee and fresh milk from the South Tyrol.
As well as creamy cappuccinos, guests can enjoy barley espressos, hot chocolates and a selection of teas.
Our delicious assisted buffet our staff, offers a selection of tempting homemade cakes and desserts, all prepared with love, hot and fragrant empty and filled croissants, mini-delights, such as cream-filled doughnuts or ring doughnuts, and freshly-prepared soft pancakes and fragrant waffles: everything you need to get the new day off to a marvellous and delicious start.
Those who prefer a light and healthy breakfast can opt for natural or fruit yoghurt, fresh whole or lactose-free milk, soy milk, a selection of breakfast cereals, dried fruit and nuts and natural seeds, a variety of jams and marmalades, thirst-quenching juices and vitamin-packed fruit and vegetable extracts, rice cakes and seasonal fresh fruit.
As well as lots of sweet treats, every morning at Hotel Constellation we also offer irresistible temptations for those who love savoury dishes too, thanks to our tempting selection of local cold cuts and cheeses, various types of bread and toasted options, cereal-packed mini croissants or filled milk rolls and other savoury temptations.
On request, we can prepare hard-boiled or scrambled eggs with crispy bacon, so they can be enjoyed piping hot.
Book Your Holiday in Rimini
directly from our Website!